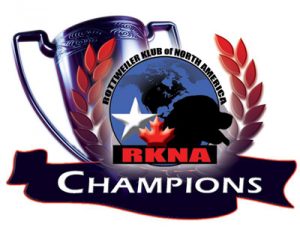 Applications for the RKNA Championship titles may be made to the Community Affairs Committee. Copies of proof of points must be included. To attain the RKNA Championship title, a member's dog must achieve five (5) total points.
One point must be earned from a V1 rating at a RKNA show from the adult classes.
One Point must be earned by obtaining the Standard Evaluation (SE)
Additional points can be earned in the following ways:
1 point V1 rating at any RKNA show
1 point RKNA Best Adult Male/Female, Best of Breed, Klubsieger/in, Youth Sieger, Youth Siegerin, Best Youth, Male/Female
1 point SE title
1 point BH title
2 points Ztp (RKNA or ADRK – only one Ztp may be counted for points)
2 points IPO 1 title
The RKNA Championship program is open to members only. Log in with your member ID to download the application.
Arnold von Burkroft – Brandon Carrabba January 20, 2016
Armageddon vom Schiller Haus – Emerson Tan – 2018
Atticus von Drasambia – Abby Mackenzie – February 1, 2016 
Ausar vom Kressbach – Rob Martin – Nov 2017
Amboss von der Alten Festung – Francisco Roseney – Jun 15, 2016
Ally Von Carpio  Joseph Secreti
Aska von der Spenceberg  Jeremy Spencer
Ballou vom Hause Franeta  Boban Franeta
Bella von der Alten Festung  Brian Dow
Black Moriah's Aragon Ray &  Laura Powell
Black Onyx You Bet Im Somethin of Quarterwoods Stephanie Lubbers
Boogie vd Teufelsbrücke  David Reyes
Brisca V. Haus Drazic – Benito Polanco Alvarado February 1, 2016
Caruso vom Kümmelsee  Gene Fragapane
Chrissy vom Lauberg  Brandon Bright
Daisy vom Haus Burns  Michael Burns
Edge vom Carrabba Haus  Brandon Carrabba
Elton vom Hause Neubrand II  Rob Martin
Furst von der Alten Festung  Daniel Baez
Godzilla vom Wesburg  Jennifer Glatz
Graf II von der Alten Festung  Tonya Downs
Grom von der Alten Festung Eric Cortez
Herbie Ritter von Camelot – Frank Bustos – 2017
Hook aus der Graftschaft  Rick Douglas
Julia von Shambala  John M. Shanebrook
Jumbo from Royal Breed – Juwan Hurd – February 19, 2018
Joop vom Nienburger Land – Jorge Nieves January 27, 2016
Kay vom Oberpfalzer Wald – John Bernard April 2, 2016
K-Barbie vom Haus Lupa  Mike Rodriguez
Karriem Bo  Simuel Hampton, Sr.
Kiki vom Kümmelsee  Gene Fragapane
Kito von der Tonberger Höhe  Joaquin Del Olmo
Kliff von Tengen  Larry Lawrence
Konigliche Ikon v Mullins Haus – Troy Mullins – May 2018
Lakesides Quest  Charlie Hansen
Lucene's Lotua Evora Mechelle Stall
Lucene's Fylin' Falcon v Marlo – Mechelle Stall -Apr 2018
Luthor von der Alten Welt  Eric Thomas
Malu vom Wachberg – Shawn Chavis April 12, 2017
Maraya vom Hause Edelstein – Jesus Castro April 12, 2017
Mona von Bloniev  Jorge Nieves
Naomi von der Holzhaussiedlung  Jorge Nieves
Nanett vom Kümmelsee  Gene Fragapane
Roselyn vom Rangau  Lisa MacGillivray
Olivia von der Alten Welt  John Bernard
Osbourne vom Schwaiger Wappen  Lisa MacGillivray
Premier Playmaker von Adler Haus – Robert Galusha – November 29, 2017
Quickfire's Missile V Maplemor  Angela Craddock
Pancho v Wissmann Platz  Juwan Hurd
Rolex vom Hause Fritzen – Freddy Flores – November 29, 2017
Tito Earl Antonius – Aaron Tabor and Stephanie Tabor December 1, 2016
Tabea vom Wilden Westen  Brandon Bright
Terahz Aspen A Star All M Life  Amber Dawes
TK's Armani  Ricardo Adame
TK's New Yorker – Tamara Kristo January 1, 2017
Trixie vh Burns  Mike & Andgela Burns
Unbro vom Carrabba Haus  Brandon Carrabba
Uno vom Haus Engel  Sunny Dhaliwal
Urso from Haus Rotvis  Katerina Olifiruk
Vaico vom Kümmelsee  Gene Fragapane
Vampy vom Vollenhaus  Jorge Nieves
Wasko von der Urbacher Höhe  Scott Norris
WCR's Axel von Vieira CVR- Nelson Vieira October 12, 2016
Winni vom Friedrichshof  Chip Ditto
Wu Tangs Axel – Michelle Platt jun 15,2016
Ynes vom Kressbach Rob Martin
York Vom Schwaiger Rathaus  Brian Holt
Zeus Sohn von Holbrook vom Krafthaus  John Holbrook
Zidan von der Janvari  Rick Douglas